Ahmed Nizar has been working in the hospitality industry for the past 18 years. He's currently the IT Director of Six Senses Laamu.
Ahmed started his journey in the hospitality industry after leaving school. Initially, he did an internship at AAA & Trading Company. After that Ahmed moved to a couple of resorts to experience the field. For a short period, Mr. Ahmed worked in the front office, and afterwards, he got an opportunity to train himself at One & Only Kanuhura (now Kanuhura Maldives) as an IT assistant.
Following that, Ahmed got an opportunity to work at Filitheyo Island Resort, which was his first full-time job. Ahmed's fascinating career led him to work in some of the most famous international brands. Likewise, he was directly involved in making the first integrated leisure destination of the Maldives a reality.
Be positive in whatever work you do. Love what you do and be dedicated. The most important thing is not to give up.

Ahmed Nizar, IT Director at Six Senses Laamu.
We received the privilege to have a conversation with Ahmed to share his journey in the hospitality industry and gain his insights.
01. So, why did you decide to stick to the hospitality field for this long?
Ahmed Nizar: I love my work. I love keeping things running for all different types of people from a technology standpoint and making the most out of the available resources.
It is the interest and desire in learning about the new technology, hardware software, developments, meeting new people etc. There are always opportunities present for you to advance yourself in this industry professionally and individually.
02. What is the role of IT in the hospitality industry?
Ahmed Nizar: Information is the key element in the tourism, hospitality industry. Information Technology has played an important role in the hospitality and tourism industry over the last decade.
The use of Technology in the hospitality and tourism industry has helped speed up operations, improve communication between staff and guests and helped the resort operations become more enjoyable and efficient.
Information technology is also revolutionizing the hospitality industry with innovative technologies that have made various benchmarks and breakthrough for future advancements in coming years with automation and mechanization.
03. What's the biggest challenge in the IT department?
Ahmed Nizar: Technology needs within the industry are constantly changing. We must learn about the potential strengths and weaknesses of new applications and devices to help select technology upgrades and decide when to roll them out.
The security threats are numerous and include hackers using AI to try to crash websites and intranets, ransomware that can cripple a company's devices, and fraudsters who seek to access accounts and steal identities.
There are other areas that we should consider, too, such as users accessing company network on their devices or the use of social networks on company devices
We must maintain a balance between flexibility and control, and make our systems more attractive to users.
These incidents make regular and comprehensive preventative maintenance essential for the IT department. Real-time monitoring of all critical networks and devices becomes an absolute must as businesses simply cannot afford the cost and reputational damage that accompany a data breach or a system crash.
04. Could you briefly explain your career starting from when you were in Filitheyo Island Resort?
Ahmed Nizar: I worked at Filitheyo for 3 years. I did my first (Property Management system) opera installation at Filitheyo with Micros Fidelio Team, which is the most widely used system in the Maldives and all over the world.
Afterwards, I got an opportunity at Angsana Velavaru. I was there with Velavaru's pre-opening as an Assistant IT Manager and worked with them for more than a year. Then I got an opportunity from Lily beach Resort where I worked for about two years as well.
Later, I joined my first project at Atmosphere Kanifushi. This was the first project I started from scratch. I did the pre-opening with atmosphere Kanifushi.
After that, I went on another project at Loama Resort, did the pre-opening with Loama. And then joined Six Senses Laamu as an IT Manager in 2015. I joined Six Senses as it's a luxury brand and there is plenty of career growth. I was in Six Senses for almost 4 years before I left for Crossroads. After Crossroads pre-opening and completing 2 years, I decided to join Six Senses.
05. How did the opportunity to work for Crossroads Maldives arise?
Ahmed Nizar: Since I got an offer from the Crossroads project for the pre-opening team and being in Six Senses for quite a long time, I decided to take part in the offer.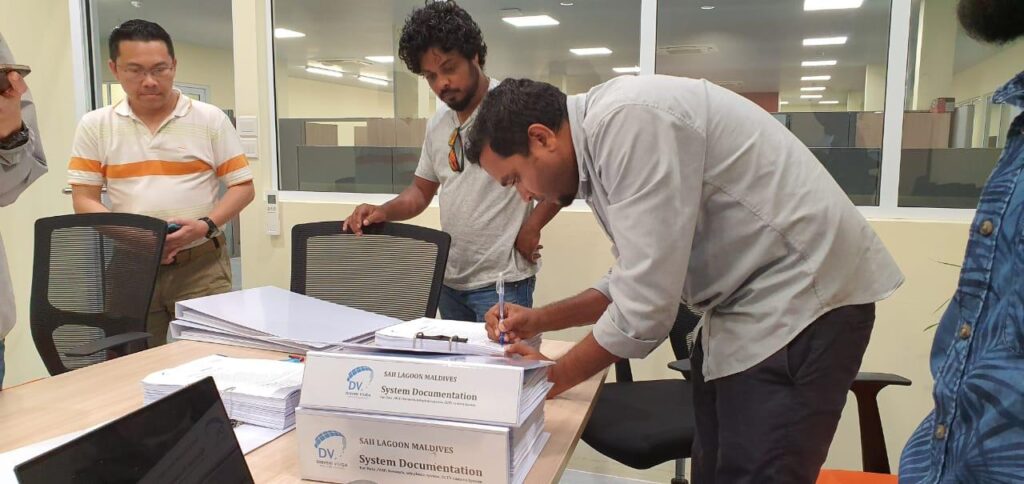 Projects are determined in terms of time, scope, procurement, quality and cost. It entails several activities that must be done in the specified time, under a fixed budget with the given resources.
I was at the Singha Corporate Office in Bangkok for two weeks with the project team to explore more about the project. The whole concept was new to me because it was multi-brands with complex integrations.
06. You were responsible for the overall planning, organizing and execution of ITC at Crossroads Maldives, one of the biggest hospitality projects in the country. How was your experience at this Crossroads pre-opening project?
Ahmed Nizar: It is a massive project that anyone would love to be part of it. I worked with Singha Cooperate IT team along with all the brands, Hard Rock Hotels corporate IT Team and Hilton Corporate IT teams to do the system/application implementations for both Resorts/ café's in Crossroads.
There were different vendors for various implementations that took place in the process and it was a good learning experience to work with different nationalities during the project.
The biggest challenge was training the end-users to use the integrated Applications for the multi-property concept. Everyone was busy with the opening and finding the time for the training and organizing it with the vendor was quite some challenge as the opening date was changed few times. We had back to back training for 3 properties daily till the live date.
07. What are some of the day-to-day challenges you face in your current job?
Ahmed Nizar: I start the day reviewing my emails and the job system to plan the day. This is a mix of seeing new projects and assessing what's urgent, fixing anything leftover from the previous day or starting on the next job. I also analyze new technologies or software upgrades.
Investing your time in knowing and understanding your office technology is important. The more you know about common IT problems, the better you'll be at preventing them from happening!
Another challenge is, network security is considered one the most critical parts of keeping the operations safe.
There's nothing worse than having your old and slow-working IT systems fail and not having the resources to fix them because of how out-of-date they are. Since we are in remote locations, it's difficult to source and get the equipment when required.
08. So the ones who are starting in the hospitality/IT field, what are some of the typical mistakes they make? And when you started, what are some challenges you faced?
Ahmed Nizar: I think when I started, it was quite different. Because at that time, we didn't have the level of resources we have now. We had limited resources and training materials available.
But nowadays, we have resources available. We have the equipment available; we have a training environment for practice. They just need to be patient, focus on assigned works. They will be supervised, instructed. Most of the resorts have internships for newcomers.
09. Are the locals in the IT field at Resorts increasing?
Ahmed Nizar: I think the number is increasing compared to the past. We hired a 100% local team for the crossroads IT Team. I believe that we have enough skilled, educated locals who have the potential to lead the ICT in the hospitality industry. But the thing is, locals don't get enough opportunities. Mostly the IT managerial posts are occupied by Expatriates.
To overcome this issue is to reserve the Tourism industry IT jobs only for locals by law.
Feature image by Ahmed Nizar