Those welcoming you with a warm smile, ready to offer you exceptional services and make your holidays far more special deserve great appreciation. Taking care of your every need, Butlers work extremely hard to ensure you have the most memorable holiday. We questioned some of the Butlers working in the industry about their work and how they feel about being a part of your unforgettable experiences. Here is how these inspiring individuals found their true calling.
Ibrahim Siraj – Dusit Thani Maldives
Along with his warm and friendly attitude, Ibrahim Siraj has over a decade of experience in the hospitality industry. With a passion to serve, Siraj was quick to join Hotel School as soon as he completed his GCE O'Level exams in 2006. After graduating from Hotel School in 2008, he commenced his career as a room boy. Then he joined Hilton Maldives as a Villa host for 02 and a half years. After which, he worked at SRL Kanuhura Maldives before joining Dusit Thani Maldives. Siraj has been with Dusit Thani for more than 06 years and he is proud to be the Head Butler of the luxury resort, managing a team of professional butlers.
I can proudly say that my team is one of the best teams in the service industry, assuring we will sustain our service.

Ibrahim Siraj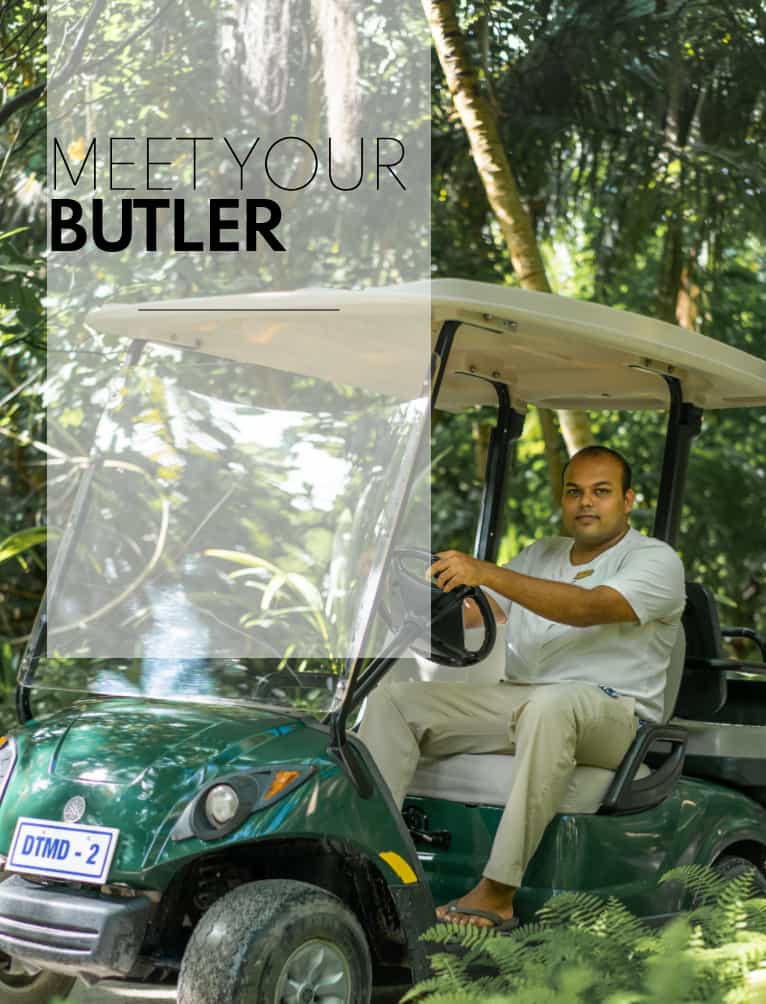 1- What are the challenges butlers face in the tourism industry?
Siraj: My recent biggest concern is that in many resorts, management is misusing the word "butler" as pool butler, beach butler, etc. No, the 'Butler' that I know (thanks to Mr. Steven Ferry from the international institute of Modern Butlers) is the person who takes care of everything related to guests, from arrival to departure. It depends on the guests but mainly full butler service is expected from the high-class guests.
2- Why do you think that Maldives as a destination needs more trained butlers in the tourism field?
Siraj: With high end brands being introduced in Maldives as 5-star and above category resorts, they require professional individuals to take care of their exclusive and upper-class guests. In my view, this can only be achieved by having the proper training as a butler and intensive levels of customer care training so that we can offer the most luxurious and personalized services for the guests.
3- What would your words be to someone who wants to become a butler?
Siraj: My honest answer would be, study hard. Get your service and customer training to the maximum you could achieve. Start off your professional career at front desk or any other department. Learn the basics and learn every bit of what is required to get the task complete. Learn the brand and the resort inside out. When a person has achieved that, then I believe they are ready to give the proper service as a "Butler "to the guests.
Ahmed Mamdhooh – JOALI Maldives
Ahmed Mamdhooh started his career in hospitality over a decade ago as a Steward in Paradise Island Resort. From there on, he joined Constance Halaveli as a waiter before working in Front Office. Mamdhooh has experience with luxury brands such as Jumeirah Hotels and Resorts, and Gili Lankanfushi. His dedication to the work and passion has driven him to the role of Head Butler. Today, Mamdhooh is leading an efficient team as the Head Jadugar (butler) of JOALI Maldives.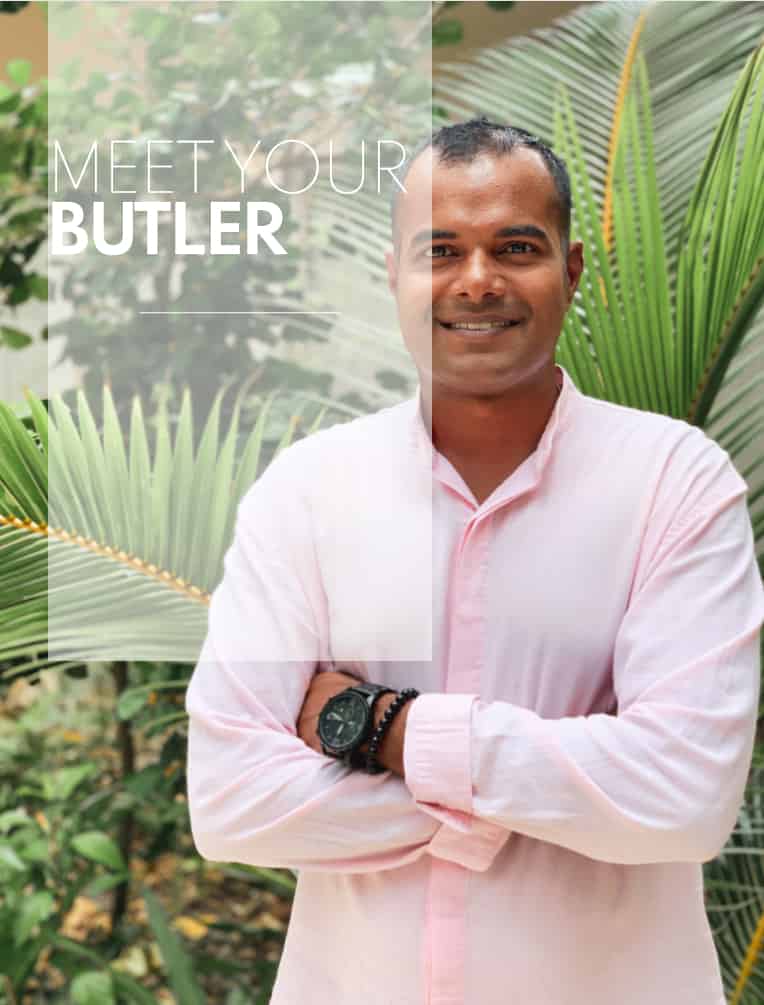 1- What was your inspiration choosing to be a butler?
Mamdhooh: When I started my career in the hospitality industry, it was always my aim to provide exceptional services and to create lasting memories for the guests. I figured that as a butler, I would be able to create lifetime memories as I will be able to spend more time with the guests and therefore let my guests have the most memorable holidays and extraordinary experience.
2- Can you tell us the most memorable experience you have come across in your career?
Mamdhooh: I once looked after a royal family. Who offered me a job as their personal butler back in Europe. I had to refuse due to personal reasons. Once i had my guest proposing to his girlfriend while snorkeling. Hence I hid the ring in the reef and prepared a "will you marry me" banner, which I placed under water as well. Later on, when we snorkeled along the reef, I was able to capture this special moment. I could go on and on, as there are just too many memorable experiences.
3- What are the challenges you face while working as a butler?
Mamdhooh: It is always my aim to create an unforgettable holiday for my clients. The weather these days can really be a challenge, as it is not predictable anymore. Especially for guests coming for a special occasion or the first time to the Maldives. It is definitely easier to create lifetime memories with sunshine, than it is with rain.
Khadeeja Mohamed – SONEVA
A butler's job is typically associated with a man. However, there are amazing women working to change that notion. Breaking social and cultural barriers as a woman in the business industry takes a lot of courage and hard work. Here's what Khadeeja Mohamed says about her journey as a Butler.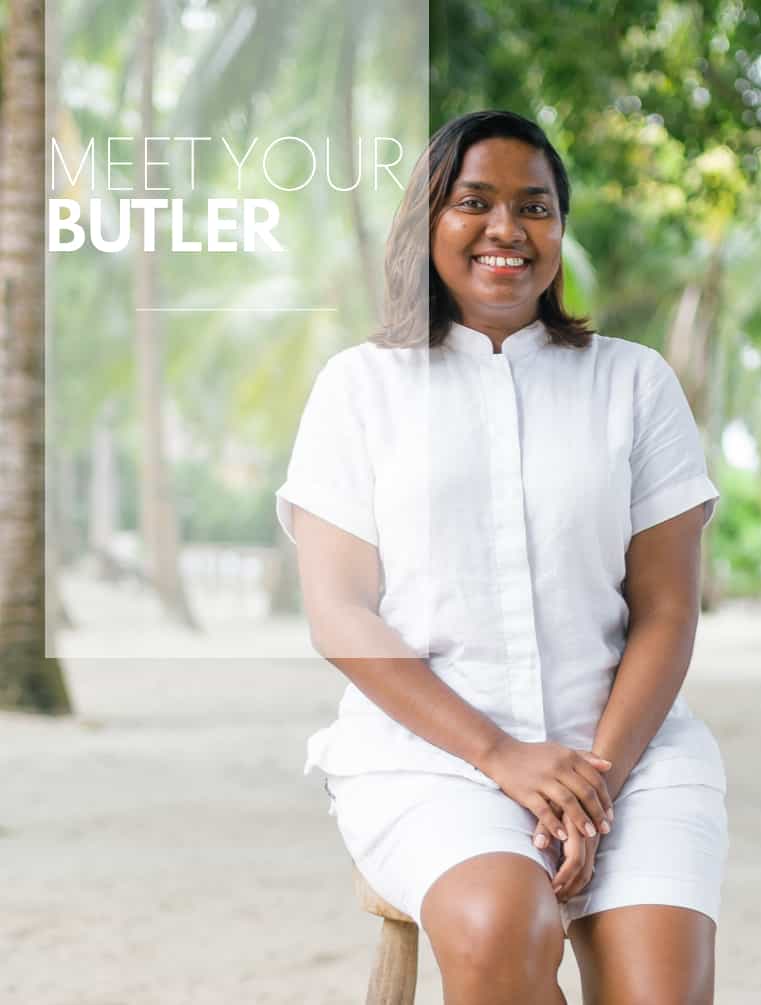 1- Could you tell us a brief of your journey till today?
Khadeeja: I studied Front Office Management in Faculty of Hospitality and Tourism Studies (Maldives). I had to do training after the studies, so I joined Taj Exotica Resort for three months for training. That's where my interest in this field started. After that, I got the opportunity in Six senses Laamu (Ex-Soneva) as a GEM (Guest Experience Maker). That's when I got to know about Soneva's philosophy – the luxury and sustainable experience. I have also worked with other brands like Vakarufalhi, Anantara Maldives and Atmosphere Kanifushi. But none of the places touched my soul like Soneva did, and I'm very happy that I'm back with Soneva.
2- What makes you go that extra mile for each guest you attend?
Khadeeja: Believing in what you do. I love my job. And I love to guide them through the experiences they (everyone) need to discover here in Soneva. Each and every experience will stay with you for a life time
The original interview was published FLYME, FIYA Magazine, Issue 10, Published by MVHOTELS.