Thinking of flying a drone in the Maldives? It's easier than you think! You have probably seen the mesmerizing aerial shots of the scattered islands somewhere on the web. And if you have a drone, even you can capture an alluring shot from above.
In case you're someone who doesn't have a drone, you might still be able to capture a perfect shot from the above if you're taking a seaplane or a domestic flight to your resort. But, some resorts will allow guests to rent a drone.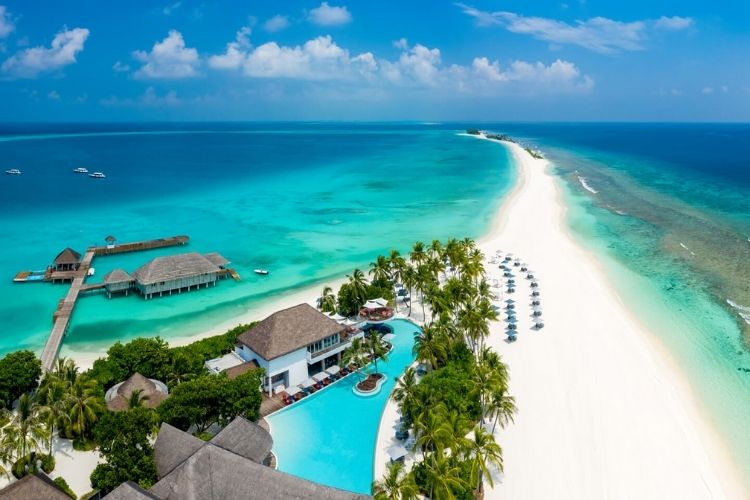 The rules for flying the drone in the Maldives are quite straightforward. While a beginner can fly a drone in the Maldives, it's better to have some practice beforehand.
Prerequisites Before Flying a Drone in the Maldives
To avoid injuries or accidents, make sure to follow these simple prerequisites. After all, the last thing you would like to happen is having your drone fall into the ocean.
Check the weather: The wind speed should be under 20 mph or less than 15 knots. Make sure the cloud base is at least 500 feet as well.
Ensure the batteries are fully charged: Not only should your battery be fully charged, remember to attach it in the first place. And of course, verify the battery level on both your drone and remote.
Upgrade firmware: You could lose power while flying your drone. Hence, keeping the firmware up-to-date ensures the reliability of fail-safe landings.
Look for defects: Your drone should not have a part missing, imbalance, or any other irregularities before you take off.
Rules for Flying a Drone in the Maldives
Approval from Resort or Island
Depending on the resort you're staying at, there's a chance you might not be allowed to fly a drone. However, most of the resorts have designated areas to fly drones without invading the privacy of others.
If you're staying on a local island, you need approval from the local island's council. To obtain approval from the local island council, check with your guesthouse or accommodation provider.
Approval from MNDF and CAA
You need approval from the Maldives National Defense Force (MNDF) before you fly the drone. Likewise, you can do this while getting permission from your resort or island council. For approval, fill in the application form (available at this link) and email it to admin@defence.gov.mv.
Upon obtaining approval from MNDF, fill the Civil Aviation Authority (CAA)'s form (available at this link) and email it to ans@caa.gov.mv. Remember to include a copy of the permit you received from MDNF along with the application.
Once you receive permission from CAA, you're ready to fly your drone! Make sure to fly in the daytime to get the best panoramic shots of the island and ocean. Alternatively, you could also try and snap a great shot during sunset or sunrise. But hey, you're more than welcome to use your own creativity and capture a drone shot the way you like.
Feature image by Sun Siyam Vilu Reef