The concept of dining underwater was just a mere dream until the world's first underwater restaurant made its appearance in Maldives during April 2005. Imagine having a scrumptious meal sitting inside a life-size aquarium meters in to the deep blue sea, watching the marine life come alive around the vibrant coral gardens. Having a meal underwater sounds quite fascinating and it is no doubt, an experience of a lifetime. Here are 05 spectacular underwater restaurants in the Maldives.
1. Ithaa Undersea Restaurant, Conrad Maldives Rangali Island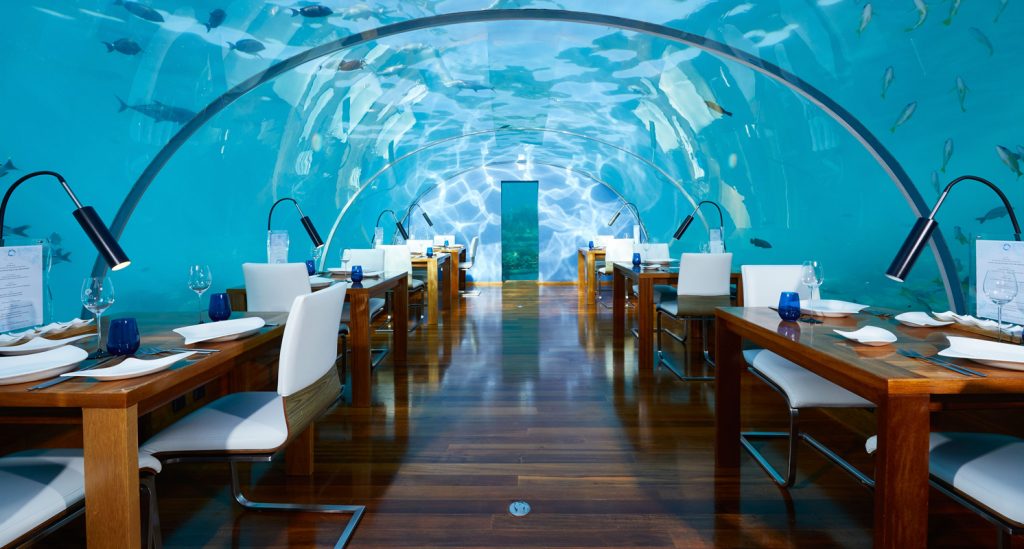 Ithaa undersea restaurant is the first of its kind in the world. 'Ithaa' means 'mother of pearl' in Dhivehi, Maldivian native language. At Conrad Maldives Rangali Island, guests can enjoy dining five meters below the surface of the ocean. With a 180-degree panoramic coral garden views along with exquisite delicacies and fine wines, dining took on a new meaning with the opening of Ithaa Restaurant.
My husband and I decided to splurge on lunch at Ithaa and we were not disappointed. The food was delicious and artfully prepared. The views of coral, fish and sharks only enhanced the experience! It was an experience that we will never forget. The staff was friendly and attentive and ensured we had an enjoyable experience.

A couple from Austin, Texas
2. 5.8 Undersea Restaurant, Hurawalhi Maldives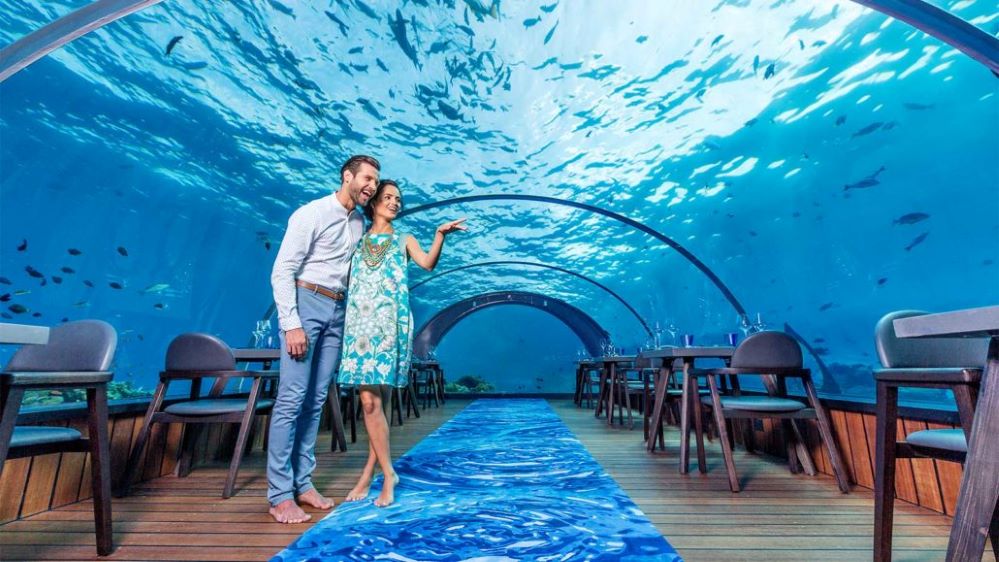 This iconic restaurant is named after its location, 5.8 meters below the surface of the turquoise lagoon. 5.8 Undersea Restaurant is the world's largest all-glass underwater restaurant and offers flavoursome delicacies including vegan options. With only 10 tables, this intimate restaurant is perfect for a unique gastronomic experience with your loved ones.
If you stay in Hurawalhi resort, this is a must to do! Last Saturday, we had a lovely dinner with 07 course menu. Amazing food, stunning view and excitement ambiance from day to night under the sea!!
If you have to choose between lunch or dinner, just go for dinner. U wont regret it! Thanks again to Hurawalhi team for their excellent service.

A couple from Kuala Lumpur, Malaysia
3. Subsix, Niyama Private Islands Maldives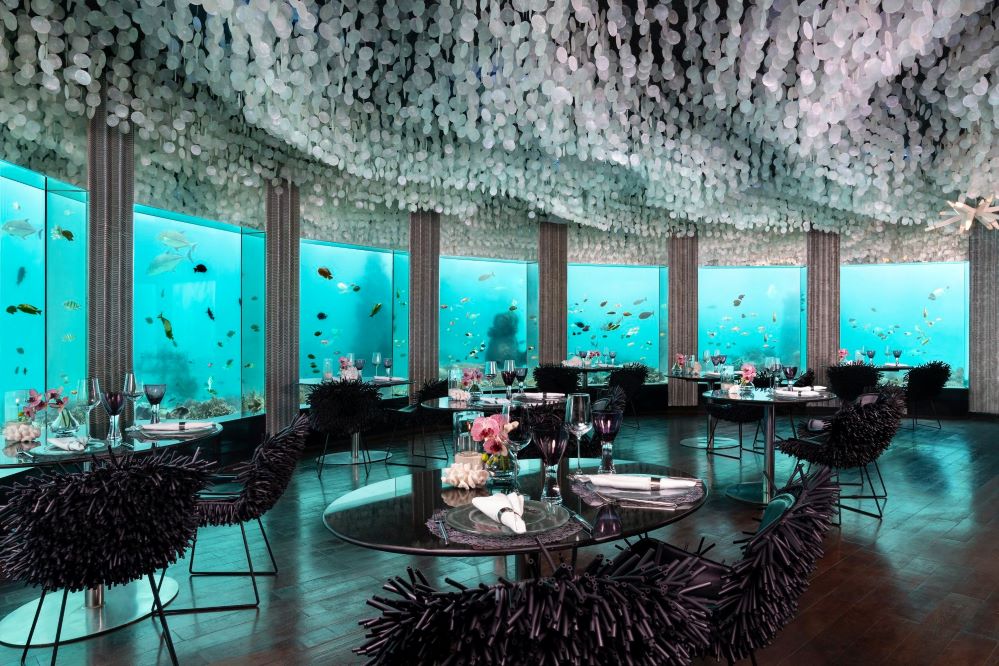 Six meters below the surface of the waters of Niyama Private Island Maldives, is an 'underground playground'. Subsix is the world's first club where dancing meters deep in the lagoon is totally normal. The restaurant is accessible by a speedboat followed by a three-story staircase. The Italian abstract interior gives the restaurant a magical feel. With champagne breakfasts, subaquatic lunches, gourmet dinners and fun-filled glow parties, this restaurant delivers a truly unique experience alongside the rich marine life.
We were at the Subsix "night club". Unforgettable setting with panoramic views 6 meter under water out over the reef.
Some in my group decided to go for a night swim and swam passed the thick glass windows. Best day ever for the staff and all honeymooners

A couple from Stockholm, Sweden
4. SEA, Anantara Kihavah Maldives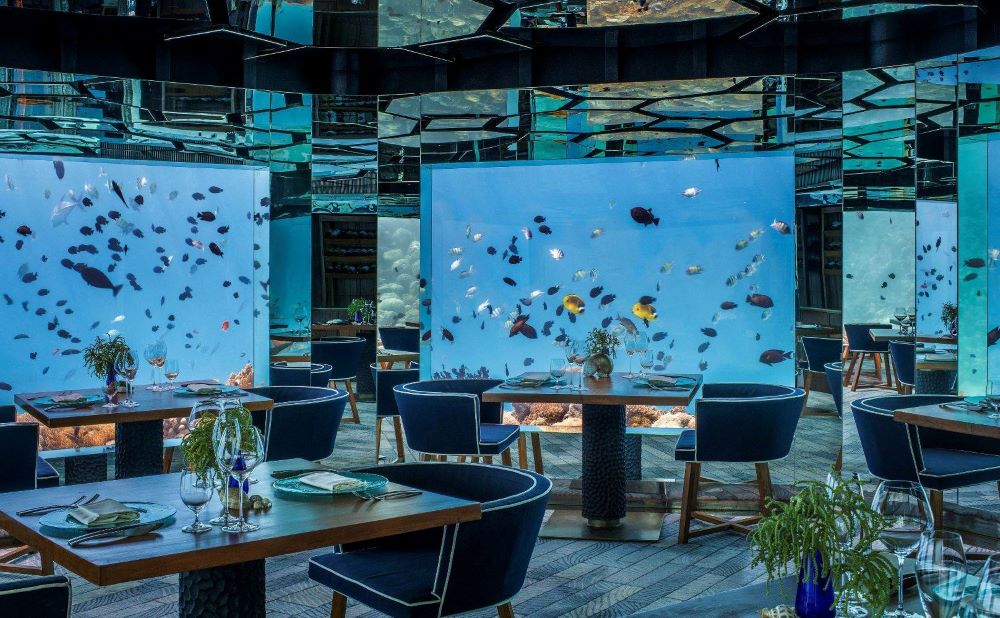 When one says dining at the SEA, who would think it quite literally means dining at the sea? With the world's first underwater wine cellar, Anantara Kihavah's SEA restaurant offers fine dining for lunch and dinner, and breakfast on request. With its international gourmet menu along with splendid wines, enjoying a meal at the SEA is truly a world-class experience.
We went to lunch on a sunny day, the view of fish was spectacular. Hundreds of varieties of fish seen close up. Food and service very good. Free glass of champagne on arrival much appreciated.

A family from Brisbane, Australia
5. H20, You & Me by Cocoon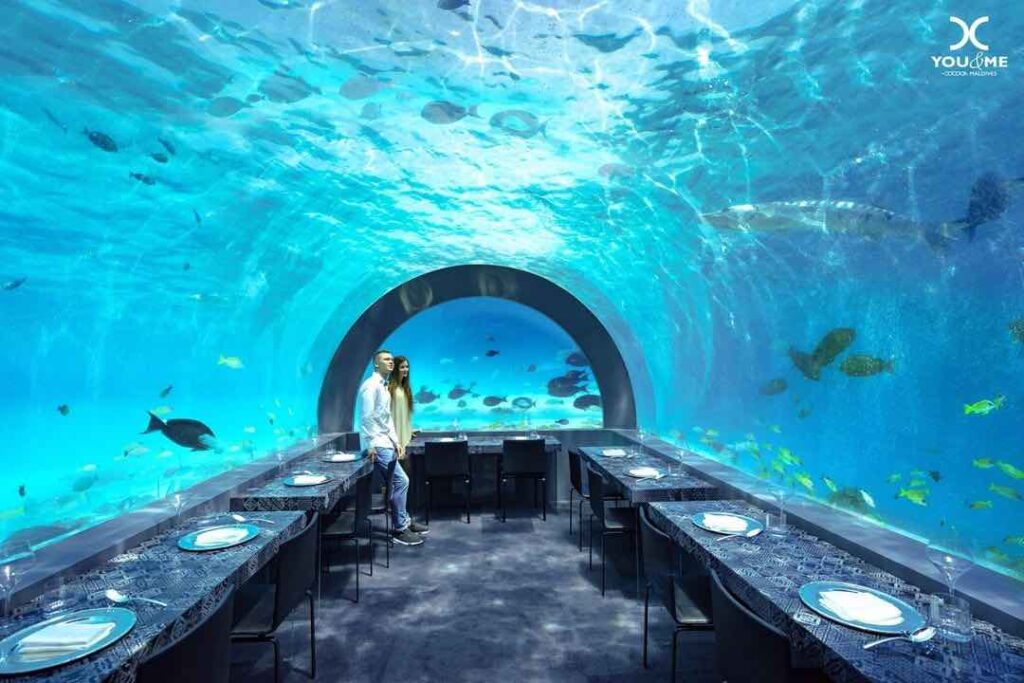 Offering a 360-degree view of the magnificent lagoons, H20 is the first of its kind, entirely submerged underwater restaurant. The restaurant offers an array of delicious cuisines along with the breath-taking views of the Maldives' marine life. A romantic meal with your loved ones while the fishes swim above and around you, now that sounds like an experience of a lifetime.
Beautiful views and beautiful food – we chose the lunchtime session because we had read that the evening underwater views were slightly marred by reflection in the glass, so can only comment on our experience – lovely!

A couple from Maidstone, UK