It's not the first time someone asked this question. Every traveller visiting the Maldives raises the question to choose between an overwater villa and a beach villa. But, not everyone considers the option of spending their holiday in an underwater villa.
For many, the obvious choice is choosing an overwater villa for their holiday as it's not something one can find at every resort. Meanwhile, other holidaymakers prefer beach villas for their ease of access to the beach. Thus, being an option more families choose. The next option is spending your holiday in an underwater villa. A once-in-a-lifetime experience that would leave anyone speechless.
So, should you choose an overwater villa, a beach villa or an underwater villa for your Maldives getaway?
Overwater Villas
Overwater villas can be perfect for millennials and the photogenic travellers wanting to show off their holiday moments. And of course, these villas offer direct access to the house reef of any resort as they do to the lagoon.
Many might argue overwater villas are located further away from the resort facilities. But, unless the villas are located on a separate island, it's simply a quick walk or a bicycle ride away. Other than that, overwater villas offer the following.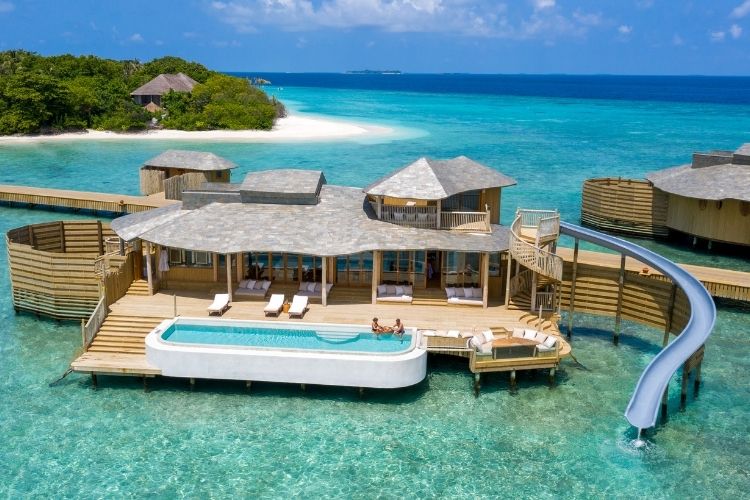 1. Easily Accessible to the Lagoon
This is probably the reason why most people choose an overwater villa. They're convenient to jump right into the ocean and take dip. At the same time, when you want the full 'Vitamin SEA' experience, choosing an overwater is the obvious choice.
Also read: Soneva Fushi Opens the 'World's largest' Overwater Villas
Some resorts in the Maldives (such as Soneva Jani) elevates the experience as a slide comes with the water villa for more fun.
2. The Scenery
Perhaps, one would choose an overwater villa just to take in the beautiful natural surroundings. Most villas offer either Sunset or sunrise views. Although, with some villas, you can experience both. Additionally, villas feature glass bottoms which gives you a view of the lagoon below you.
3. Privacy
Mostly, honeymooners would prefer overwater villas just for the unparalleled privacy they offer. In Maldives resorts, privacy is rarely an issue with the unique one-island-one-resort concept. So, this does not mean beach villas offer much of 'less' privacy than overwater villas.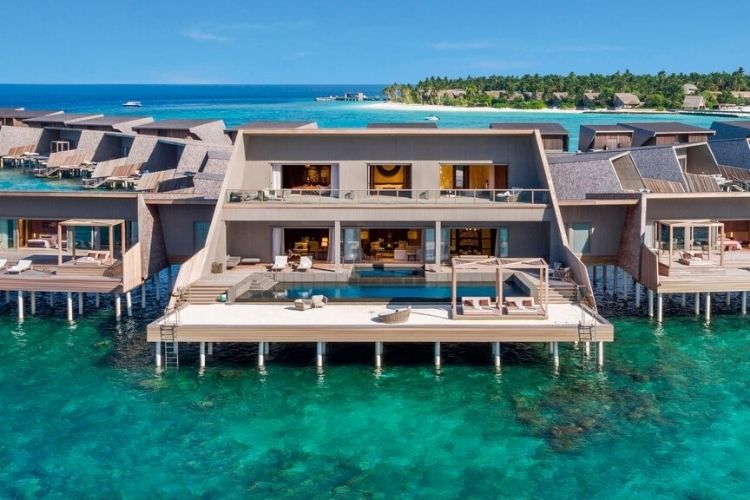 Beach Villas
A beach villa in the Maldives, on the other hand, isn't a bad choice for your holiday either. If you're sticking to a tight budget or want a holiday with the littles ones, this may be the better option.
1. Convenient Access to the Beach
Who would not want to play with the snow-white sand in the Maldives? Little ones would especially go crazy to play in the sand. Besides that, a walk on the beach is also quite romantic if you're on a honeymoon.
The lagoon and sea are also just a few steps away for you to take the dive in.
2. Cheaper
It's not a secret. Beach villas are the cheaper option compared to overwater villas. And this could play in your advantage if you're not much of a swimmer or someone who has a profound love for the sea and ocean. Besides, it does not compromise on the facilities available to you (at least in most cases).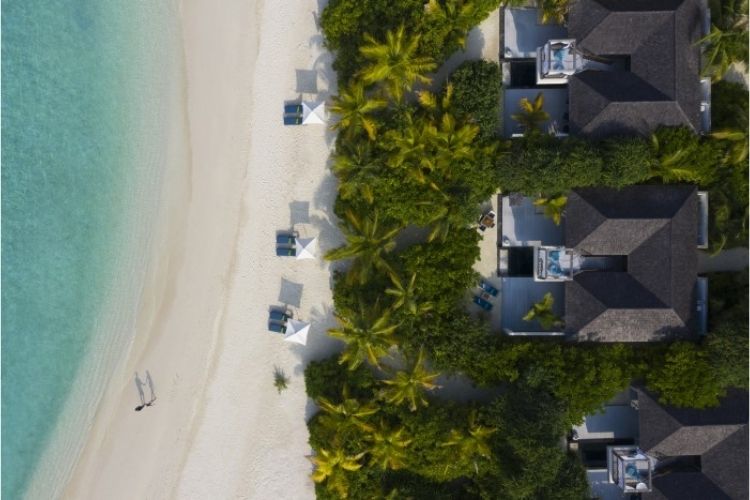 3. Better for Families/Kids
Overwater are not a good option if you have kids. In fact, most resorts do not even allow kids to stay in overwater villas. They're built on deeper depths (and even if it is shallow for you, it totally wouldn't be for your 5-year-old). Besides, choosing a Beach Villa would give kids much better convenience to play in the sand.
Also read: Raffles Maldives Meradhoo's Royal Residence
Underwater Villas
If you want to take your experience way above (actually below literally speaking), you can choose an underwater villa. It's not a myth! Two resorts in the Maldives currently offers underwater accommodation options. While this is the ultimate experience, it's not for everyone as the underwater experience comes with a hefty price tag.
However, The good news is you can get the same thrill and views at an underwater restaurant as well.
1. Views of Creatures & Corals Upclose
Seeing the spectacular view of the majestic creates in the Indian Ocean up close is not something you can do every day. The one-in-a-lifetime experience is truly like no other. The views are like a movie; unscripted, endless and just magnificant.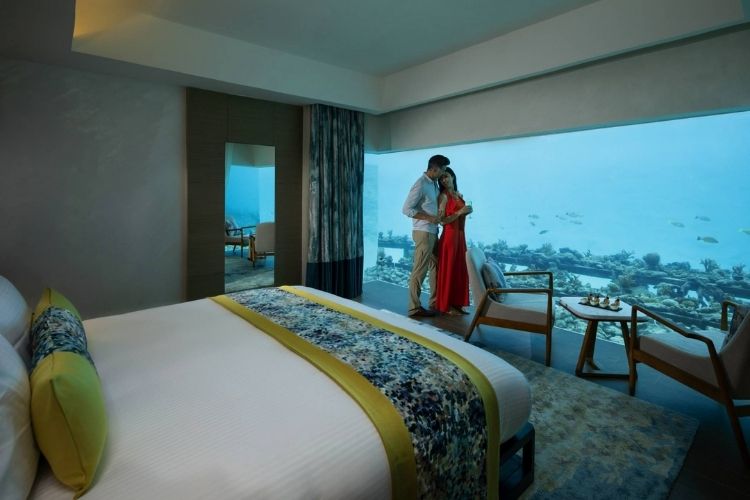 2. Unparalleled Service
When you spend 50 thousand dollars for a 1-night stay, the service that comes with it is also another perk. When you choose to holiday at an underwater residence in the Maldives, you're also paying for the top-notch service as well. Expect your very own private host, private dinners, and even private seaplane journey to your holiday home.
3. The Pinnacle of Privacy
Well, the fishes are gonna see you. Other than them, there are no humans living below the sea level. However, you can experience the same level of privacy at other luxury resorts as well. Although it's still incomparable to living on the seafloor.
Also read: Couple Reveals What it's Like to Holiday at Paradise Island Resort Right Now
Choosing to holiday in an underwater villa is not for everyone. But, if you can afford it, it will surely be the experience you'll remember for the rest of your life. Don't expect any less from choosing an overwater villa or a beach villa in the Maldives though. Each resort features its own design and unique services. So, no matter which type of villa and how many times you choose it, any holiday in the island destination will surely be one you'll remember for the rest of your life.
Feature images by: St. Regis Maldives Vommuli Resort, Mövenpick Resort Kuredhivaru Maldives, Conrad Maldives Rangali Island