Resorts in the Maldives always surpass the expectations of holidaymakers when it comes to celebrations. The island nation is synonymous with romance with its stunning settings and intimate offerings.
Nonetheless, resorts take it up a notch every year for the valentine's day. And despite the challenges of the global pandemic, the natural settings of the Maldives along with the country's rigorous COVID-19 measures allows anyone to treat their boo to a valentine's day getaway to the Maldives.
Here's a look into the unique experiences these resorts offered for the valentine's day 2021.
Heritance Aarah
The team at Heritance Aarah crafted bespoke decorations and amenities for the special celebration.
OZEN Life Maadhoo
OZEN Life Maadhoo celebrated true love in a 'tropical setting, the way it should be done'. The luxe resort hosted scintillating musical performances that warm heart and a gala theme dinner with scrumptious delicacies and desserts. All around the resort, guests could find romantic decor!
OZEN Reserve Bolifushi
OZEN Reserve Bolifushi shared moments from its first valentine's day. Bolifushi celebrated the valentine's day with dreamy decorations in red, tropical ocean breeze and soft white sands–making the resort a perfect setting for the festival of love.
Sandies Bathala Maldives
Guests at Sandies Bathala enjoyed a magical valentine's evening. This 4-star resort is a part of the Planhotel group and third resort of the Sandies Resorts brand.
JOALI Maldives
Guests at JOALI Maldives enjoyed an adventure filled with magical moments of romance like no other this valentine's day. The private beach getaway in the Maldives hosted a selection of unforgettable experiences for the celebration of love.
Adaaran Prestige Vadoo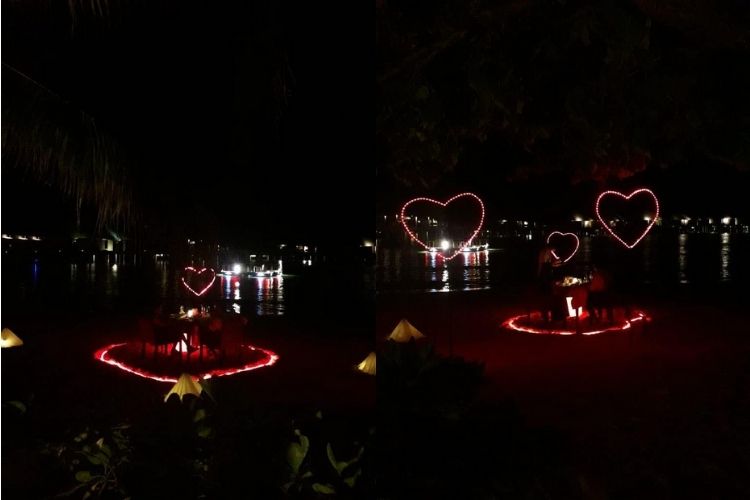 Adaaran Prestige Vadoo gave a glimpse into the valentine's day happenings at the resort. This resort is among the best luxury all-inclusive resorts in the Maldives as awarded by Luxury Lifestyle Awards 2020.
Will you spend your next valentine's day in the Maldives? You don't have to wait that long to celebrate your love though! Many resorts offer romantic packages perfect for a honeymoon or a romantic getaway all-year-long.
Feature image by OZEN Reserve Bolifushi