Cinnamon Hotels & Resorts is letting you experience the beauty of the Maldives through the eyes of some of the world's best divers via a live stream. For free, anyone can watch this wonderful six-part series.
The divers include:
Beth Neale: 4 times South African Freediving Champion, Ocean Conservationist & Master Freediving Instructor
Miles Cloutier: Freediver and underwater camera-man
Aakash Malhotra: GoPro Ambassador & Winner of the GoPro Discovery Channel India campaign
Cinnamon Velifushi Maldives says to expect shipwrecks, manta rays, sharks, turtles, vibrant corals and more magnificent creatures of the sea through the live stream. Likewise, this live stream will commence from 14th February 2021 onwards.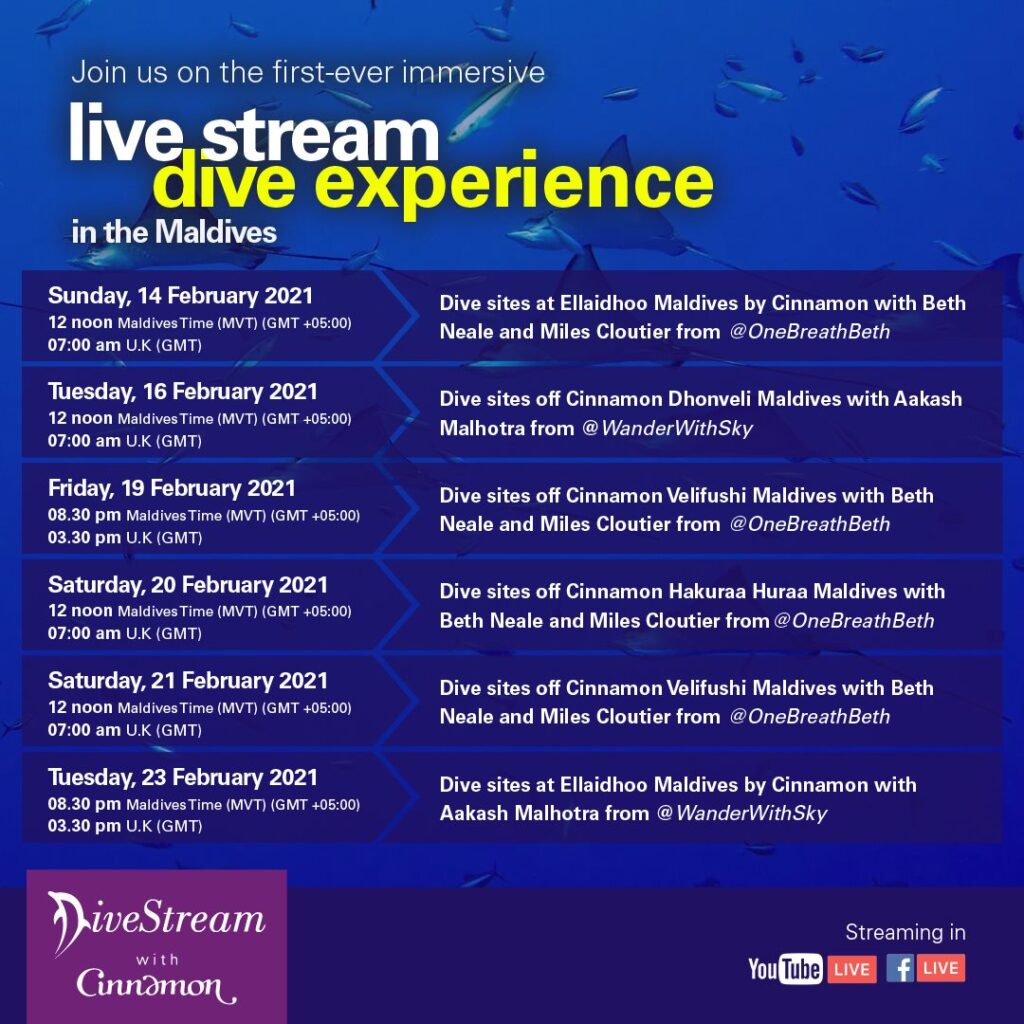 For registrations click HERE.
About Cinnamon Hotels & Resorts
The Cinnamon Hotels & Resorts was established in 2005 with 15 Properties, 03 hotels in Colombo, 08 resorts in Sri Lanka and 04 resorts in the Maldives. Cinnamon Hotels is one of the biggest hotel chains in Sri Lanka. The journey inspired by the spice, cinnamon, the brand has seen success till today through its 15 years journey.
Cinnamon Velifushi in the Maldives boasts 90 remarkably spacious rooms. Furthermore, the sweeping views from every chic room at the resort are cleverly complemented by the airy, open, Italian-styled interior.
Also read: Choosing a Villa in the Maldives: Beach, Overwater or Underwater?
Meals at this Maldives getaway isn't ever dull with the wide array of dining options. Moreover, holidaymakers can find both local and international fare at Velifushi. So, guests can opt for something exotic, or relish the taste of a well-loved dish. Likewise, for the lovebirds, the resort will happily prepare a more customised dining experience in a secluded location. For example; on the white sand beaches!
Other Cinnamon properties in the Maldives include; Cinnamon Hakuraa Huraa Maldives, Cinnamon Dhonveli Maldives, and also Ellaidhoo Maldives by Cinnamon.
Feature image by Cinnamon Hotels & Resorts