The largest German airline, Lufthansa has resumed its operations to the Maldives today, 28th October 2020. Lufthansa is flying twice a week for this winter season to the Maldives. Lufthansa will operate flights between Frankfurt, Germany to the Maldives.
The second-largest airline in Europe will operate flights to the Maldives on Wednesdays and Sundays. In addition to Lufthansa, FlyDubai also recommenced its operations to the Maldives on 27th October 2020. According to MACL, FlyDubai will operate 4 flights a week to the island archipelago. Moreover, from three cities of India, budget airline GoAir will resume flights to the Maldives on 31st October 2020 as well.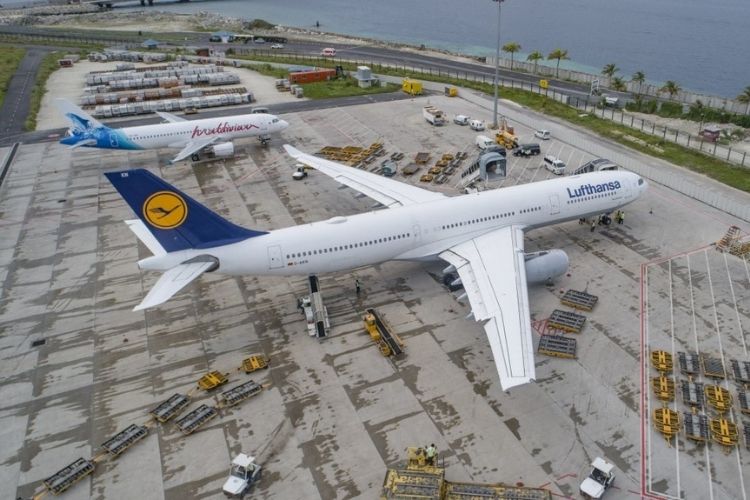 In an earlier press release, Lufthansa Group revealed that the airline expects demand for air travel to remain low in the coming winter months. This is due to the global evolution of the pandemic and the associated travel restrictions. Furthermore, according to current planning, the Group's airlines will only offer a maximum of 25% of the previous year's capacity in the fourth quarter to ensure that flight operations continue to generate a positive cash contribution.
More airlines have announced plans to recommence operations to the Maldives colliding with the festive season. Russia's Azur Air will restart operations to the Maldives on November 2020. And the airline will operate flights three times a week from Vnukovo International Airport.
Meanwhile, China Southern Airlines is also set to commence flights to the Maldives on 29th November 2020. Thus, connecting the Maldives to China for the first time since the border reopening.
For a full list of airlines commencing operations to the Maldives click HERE.
A subsidiary of the Lufthansa Group, Austrian Airlines Resumed flights to the Maldives on 25th October 2020. The airline is operating direct flights between Vienna, Austria and Velana International Airport. Maldives' Minister of Tourism, Dr Abdulla Mausoom shared delight upon the restart of Austrian airlines. Minister implied the airline is yet another significant connection between the Maldives and Europe.
Feature image by Velana International Airport