The largest event production, management & AV rentals company in the Maldives – Stage Core has announced new custom plans aimed at the Resort and Hospitality industry to host events in the post-COVID era.
Whether it's huge festive celebrations or bespoke private parties and ceremonies, Stage Core ensures that they are well equipped to execute them all. Boasting the largest pool of AV equipment, structures, engineers and creative talent, all under one roof, Stage Core is not only the largest total solutions provider in the Live Events industry, but also one that is dedicated to innovating & adapting itself to the challenges ahead.
First and foremost – Safety is our priority. Stage Core diversified to form a joint venture – "CleanTech Maldives". Initially formed in 2016, CleanTech is now the market leader in providing disinfection and deep cleaning service in the country. It employs the largest and most diverse team of professionals certified in the sanitation industry, utilising a wide range of specialised equipment from the US and EU. The company also holds the sole distributorship for the world famous "Victory" brand electrostatic sprayers and only uses US-EPA & WHO approved chemicals proven to eliminate COVID19 and other deadly microorganisms. With this venture, Stage Core can provide the assurance that safety is part and parcel of any event it undertakes. Added measures such as automated hand sanitiser stations, sanitisation gates, thermal camera posts, etc. are employed as part of a strict internal protocol that measures up to local HPA, as well as global COVID19 guidelines.

Press Statement by StageCore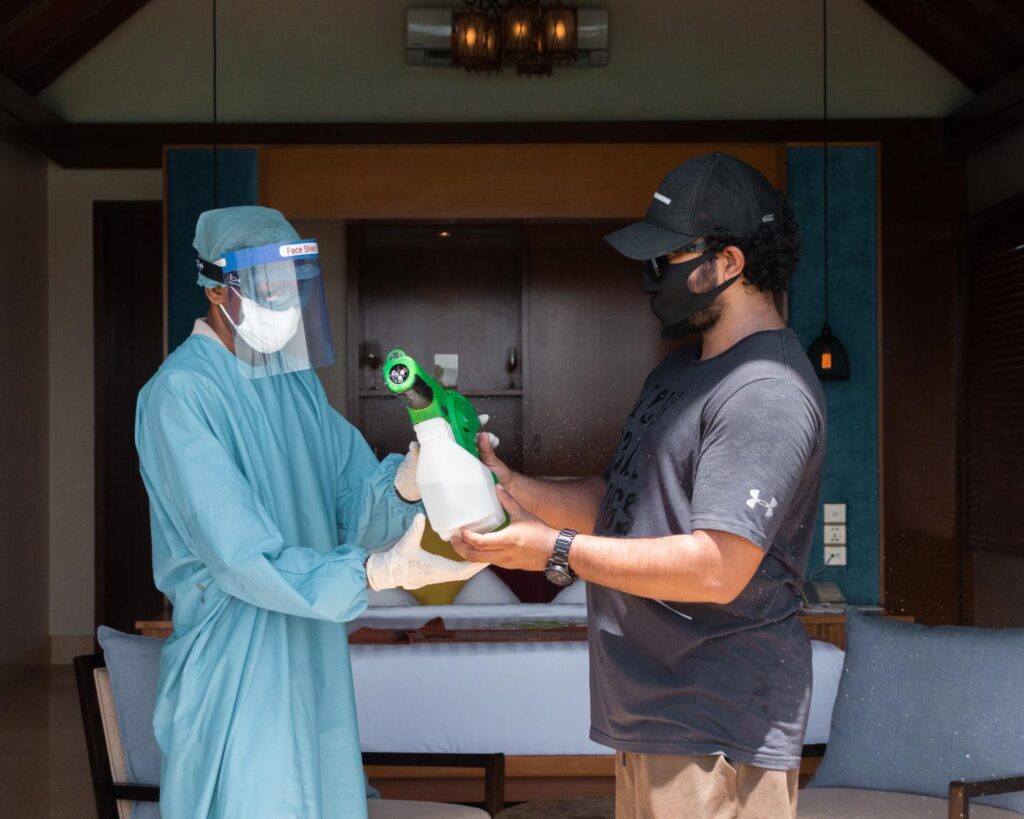 With the fledgeling state of the global industry, Stage Core shifted its focus on a 'stakeholder' model- based on working closely with the resort management to ensure that the risk/rewards are shared between both parties. Attendance-based pricing, flexible fee structures, partnership & revenue share arrangements, to name a few. Stage Core is dedicated to creating an atmosphere of positivity by bringing a "can-do" attitude towards new implementing ideas, with a fervour for innovation through experimentation. One of the core targets of the company is to make the Maldives a springboard to reinvigorate the lucrative (but now dormant) international events industry.
As the global Tourism industry starts its long roads to recovery, the Maldives has the potential to lead the pack in the race to a new normal. Our unique geography makes an otherwise challenging infrastructure, one that we can leverage as a strength, during the post-pandemic era. Although a world renowned luxury tropical destination, we should never shy away from diversification of services. The hospitality industry resurfaces as a buyers market for the relative handful of travelers, and we need to be able to cater to a broad spectrum of requirements. With that in mind, we are keen to offer creative and cost effective solutions as a resource to boost the entertainment profile and liveliness of the Maldivian Resort scene, under an umbrella of security. Our aim is to help you sell the atmosphere of normalcy and joy that we all crave. A taste of hat we had, and what we hope to return to one day soon.

Ahmed Haisham, Managing Director, Stagecore
Under 'new normal' guidelines,the brand continues to provide total solutions in management of events ranging from new year celebrations, weddings, award ceremonies, private parties and much more. One key area of focus is effectively utilising side attractions to intensify guest experience with costumed arrangements, special fireworks displays & water shows, musical specialties and clubland events.
In order to further understand the effects of the pandemic and the requirements of various hotel properties, Stage Core has opened a survey for more than 100 resorts across the Maldives. The target of this research is to drive a collaborative response, with the hope of crafting actionable solutions.
About Stage Core
Incorporated in 2016, Stage Core took the event industry by storm, growing exponentially to become one of the top tier event production companies in the Maldives. Offering a one-stop solution for every client, Stage Core has set itself apart as the all-in-one event solutions provider in the Maldives.
Since then the event company kept on innovating the experience and transforming every venue into the perfect 'meet and greet' spot, Stage Core boasts a cornucopia of talent, such as acrobats, musicians, singers, ballet dancers, carnival girls, magicians, make-up artists, to name a few. Stage Core continues in making history in managing high-profile events at luxury venues such as Velaa Private Island and Cheval Blanc Randheli.
Feature image by Stage Core