The Maldives has achieved a historical milestone by winning the prestigious 'World's Leading Destination Award' title at the World Travel Awards 2020. This is the first time the Maldives was crowned in the most distinguished travel award category in the World.
The Maldives takes the award after fierce competition with world-class destinations such as; Dubai, Spain, Greece, India, and the United States of America and also other countries. 6 properties in the Maldives also won prestige in the world-class categories. Additionally, the world's biggest airline, Trans Maldivian Airways (TMA) was also crowned as the world's leading seaplane operator. Likewise, TMA has secured this title since 2019.
Maldives winning World's Leading Destination award is a strong endorsement of the popularity of Maldives amongst international tourists. This superb win reflects the strong determination and sound policies of HEP Solih and his administration, strive and strides of travel and tourism industry partners and employees; targeted #VisitMaldives promotion by industry partners and MMPRC and of course the warm smile of Maldivians. Congratulations!

A statement by Tourism Minister of the Maldives, Dr. Abdulla Mausoom.
In addition to the world's leading destination 2020 award, Maldives has also claimed the title of Indian Ocean's leading dive destination constructively for the past 5 years. Furthermore, the island nation is on a winning streak, grabbing the Indian Ocean's Leading Beach Destination title without a drop since 2013.
The Maldives won regional titles at the World Travel Awards including:
1. Indian Ocean's Leading Beach Destination 2020: Maldives
2. Indian Ocean's Leading Cruise Destination: 2020: Maldives
3. Indian Ocean's Leading Destination 2020: Maldives
4. Indian Ocean's Leading Dive Destination 2020: Maldives
The titles properties in the Maldives won globally include:
1. World's Leading Luxury Island Resort 2020: The St. Regis Maldives Vommuli Resort
2. World's Leading Luxury Island Villas 2020: Baros Maldives
3. World's Leading Water Villa Resort 2020: Four Seasons Resort Maldives at Kuda Huraa
4. World's Leading New Resort 2020: Emerald Maldives Resort & Spa
5. World's Leading Airport Resort 2020: Hulhule Island Hotel
6. World's Leading Honeymoon Resort 2020: JA Manafaru
7. World's Leading Underwater Hotel Restaurant 2020: 5.8 Undersea Restaurant @ Hurawalhi Island Resort, Maldives
8. World's Leading Luxury Honeymoon Resort 2020: Vakkaru Maldives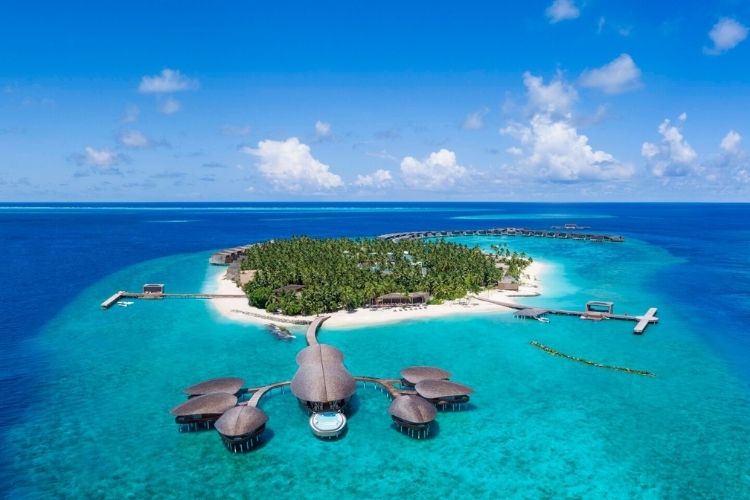 World Travel Awards™ is globally recognized as the ultimate hallmark of industry excellence. Likewise, this year, the World Travel Awards had an extended voting period; to enable all organizations nominated in the 2020 program a longer timeframe so they can generate votes.
Feature image by Kurumba Maldives