Reethi Faru Resort hosted two restoration programs For World Environment Day 2021, keeping in line with the theme for this year #GenerationRestoration. The resort's residential Marine Biologist led the two tree planting and coral planting programs during the day.
The barefoot escape island stays true to its conservation promise by protecting and reviving the environment through sustainability measures.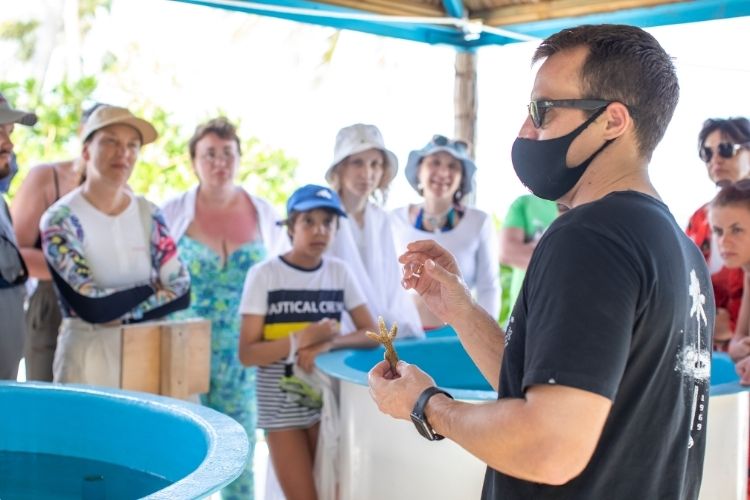 According to Reethi Faru Resort, the two programs hosted on World Environment Day 2021 were open for guests and team members. Likewise, these activities highlighted the importance of such actions and what their impact is going to be in the long term.
From creating a fuller, lush and greener island to taking a step further to coral growth and conservation without compromising on their natural habitat, the actions from World Environment Day is just one more step we took to tackle the climate crisis we face.

A statement by Reethi Faru Resort.
Reethi Faru Resort is a bio-luxury island located in Raa Atoll. The resort is renowned for its sustainable efforts taken during their core foundation and every day since. One of the first few resorts to have a biogas digester, the resort has reduced its emission footprint by converting all food waste into biogas used within the staff kitchen.
In addition to that, Reethi Faru Resort also actively encourages energy conservation which is one of the cornerstones of their efforts. With over 4,000 photovoltaic panels installed on the roofs of the resort's staff accommodation, the solar plant helped save 246,000 ltr. of diesel in 2019. Hence, resulted in carbon emission savings of 660t of CO2.
Reethi Faru offers luxurious Maldivian villas complete with either Jacuzzi; nestled in tropical gardens, beachside, or on stilts over the beautiful turquoise water. In addition to that, guests indulge in a gastronomic journey with the luxe resort's six restaurants and six bars. The bio-luxury island also boasts an array of activities from a 5-star dive centre to thrilling excursions and an award-winning spa.
Feature image by Reethi Faru Resort